Speaking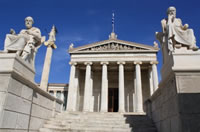 The oral delivery of information takes place in various forms: public speaking in front of an audience, discussion, and conversation. The audience determines the method. Content and delivery determine the speaker's success in communicating. Rhetorical devices and appeals, gifts from the ancient Greeks, contribute to effectiveness and eloquence in persuasion. Organization of information, appeal to the audience's interests, humor, eye contact, vocal inflection, pacing, and volume can produce a positive outcome for a speaker, getting the point across and achieving the speaker's purpose.
One of my favorite speeches of all time—and I believe most people would agree—is Martin Luther King's "I Have a Dream" speech delivered on the steps of the Lincoln Memorial in Washington, D.C. in 1963. Reverend King was a natural speaker, an eloquent speaker because he knew and used the tools to reach his audience's emotions, their sense of reason and character, and this speech will never be forgotten. He had a written manuscript in front of him that day, but in his ardor to communicate critical truths for not only the 1960s but for all time, he set it aside finally and spoke from the heart.
When I work with young people who are required to deliver an original speech for an audience of several hundred other students, I ask them to write a persuasive speech that focuses on the classic appeals of logos (reason), pathos (feeling), and ethos (their own personality, character, and expertise). When the speech has been written, revised, and finalized, we work on delivery. How convenient it would be for students to stand before the audience and read their speeches—no worries about forgetting and being humiliated before their peers. The reverse, however, is actually the case. A speaker who is unprepared to dazzle an audience is forgettable, and since my motto is anything worth doing is worth doing well, I try not to allow that to happen to the students who come to me for help. The first step must be to memorize the speech, with an index card for notes, which could be key phrases or an outline for security purposes. This step is not an option, for it makes all the difference in the outcome of the speech. Eye contact simply isn't good enough if a student must look at the manuscript every five or six words. You see, nothing is quite so exhilarating for the speaker as looking at an audience eye to eye and, with heartfelt conviction, using his voice and pacing and volume effectively to convince people to believe that what he has to say will make a difference in the world, or at least a part of it. The moment a student finishes and takes her seat after such a speech, that speaker will never be the same again because of that one moment of triumph in her life, a moment in which she took control and used her power for good.

Speaking in front of an audience is terrifying only when the speaker is unprepared. That bit of advice is essential. When a speaker has a good speech and has worked on the various elements of the delivery, speaking in front of an audience is still nerve wracking, but the success rate is far more promising. That alone can persuade students to invest the time in writing a memorable speech and practicing it enough to be persuasive.